BOARD OF DIRECTORS
Listed here on this page is a grand list of invaluable personnel who have all in their own unique ways made this vision a reality and more.
Muyiwa Mark Ibigbami is a Broadcast sales professional with over 15 years experience in the Broadcast Media industry. Trained as a Geologist and a Geophysicist, he has found delight and fulfillment in providing solutions to people's needs both as a professional and as a passion. Muyiwa hails from Ikole-Ekiti, Ekiti State, Southwest Nigeria. Born October 4, he bagged his first degree at the University Of Ado-Ekiti, and his Masters at the University of Lagos. He delights in reading, teaching and writing, and loves to epitomize the grace of God. Greatmark is an inspirational writer and motivational speaker that loves helping and mentoring people to attain their full potentials and live fulfilled lives.  He believes that the greatest discovery is knowing God's purpose for one's life.
Email: greatmark@yeswearewinning.com
IG: iamgreatmark
Linkdln: Ambassador Mark
Facebook: Muyiwa Mark Ibigbami
'Mcdammy', as she is fondly called was born April 15; an Home Economic educationist by profession and a caterer by occupation. She hails from Abeokuta, Ogun state, Nigeria. She's the quintessential MD/CEO Mcdammy Foods. She is passionate about the welfare of people. A growing human right activist, she is the co-founder and visioneer of this foundation. Omolara Damilola Ibigbami studied Economics Education at the AOCOED Ijanikin, Lagos State, and bagged a professional degree in Catering & Hotel Management at the YWCA, Lagos. Her philosophy is to fear God and loves to be an epitome of godliness in all things.
FB: Omolara Ibigbami
IG:mcdammy_foods
Email: mcdammyfoods@gmail.com
Dorcas Osarugue Omoregie is a brand consultant at De-innovative House Concept, and Head of Administration at Solomon's Porch Pentecostal Ministry. She hails from Orhionmwon LGA, Edo state, Nigeria. A graduate of History and International Relations at the Delta State University, Nigeria. She holds a Masters in Public and International Affairs (MPIA) Unilag. A graduate member of Nigerian Institute of Management;  and Associate Member of CIPM.
Born August 18th, Dorcas Omoregie is an expert in Morale Motivation, Coordinated and Effective Use of Human Capital & Branding.
Facebook: dorcasandrew@yahoo.com
Olaniyan Olubunmi Peter, who was born on the 17th of July, hails from Kwara state. He attended FCE, ABEOKUTA. A seasoned cinematographer and an affectionate comedian, Bunmi is a graduate of Business Education at the Federal College of Education, Abeokuta. He is an aspiring film maker, and photo ambassador.
Facebook : Olaniyan Olubunmi Peter
Instagram : @this_is_dsmstudio
Twitter: @dsmstudios
Email : olubunmiolaniyan@yeswearewinning.com.
Aduloju John is a seasoned professional with over 20 years of experienced as a media and broadcast consultant, tv director/producer, a cinematographer and trainer, innovation shows and events initiator and creator
He has worked home and abroad and on over 200 projects amongst was the Autobiography of the past president Olusegun Obasanjo and also had delivered projects for clients like Total plc, MTV, Google, BBC, CNN, SABC, MNET,
NBC UNIVERSAL, ITV NEWS- UK, VMN (Nigezie tv), The Quadrant Company, Chain reactions Agency, Harvard Business School, Storm 360 Productions, Niger-Delta Amnesty, etc.
He is the Principal consultant at rods and cones ltd.
Praise Udemba was born on the 20th of June, and she is a female law student of the University of Lagos. She is an indigene of Delta state. She is passionate about the welfare and rights of a individuals. She has worked in the human rights sphere, interning in various civil societies and volunteering for causes relating to advocacy.
Facebook: Udemba Praise
IG: @praisewho
Twitter: @praisewho
Queen Afolarin Akinola is a graduate of Accounting from Ambrose Alli University, Ekpoma. Currently an employee of LAPO MFB LTD Lagos where she works in the position of Internal Auditor. An indigene of Edo State, Queen was born in Kano and speaks and understands Hausa language.
She's a lover of music and a member of the Baptist Chorister. Queen is very passionate about mentoring teens and young adults.
Facebook: Queen Akinola, Instagram: @mz_palashy
Oladapo Christus hails from Oyo state of Nigeria, he was born on 27th of January, he studies accounting at University of Lagos and he is currently working as an Account personnel at Phillips pharmaceutical Nigeria Ltd. Christus is a lover of music and a versatile instrumentalist. He is passionate about the welfare of the needy, and always eager to impact positively on the society.
Email: xtusdapo@gmail.com
Facebook- Christus Oladapo, Instagram: @airxcrease, and Twitter: @ochristus
Peter Omokhaife Sandra is a student of Business Administration and Management of Lagos state polytechnic. She presently works with Mcdammy cakes and confectioneries. She was born on the 16th of October. She is passionate about making a difference in all that she does.
Email : omokhaifepeter20@gmail.com.
Facebook: Peter Omokhaife Sandra
Ogunwale Afolayemisi Titilola is graduate of Mass Communications from Covenant University, Ogun state, Nigeria. Born 19 December, she hails from Ogun state, Nigeria. She succinctly puts her philosophy this way, "My big dream is someone else's reality already."
She currently works with 3rd floor Digital As a Community Page Manager. She is passionate about God,  people, and loves to be involved in event planning. She believes she can do anything because she knows what she has in her inside.
FB: ogunwale titilola
IG: titilolaogunwale
Email: ogunwaletitilola@gmail.com
Afolasade Grace Ojo-Kuteyi was born on the 1st of April and she is an indigene of Ogun State. She bagged a law degree from Olabisi Onabanjo University, Ago-Iwoye (LLB), attended the Nigerian Law School, (BL), and got a masters degree from the University of Lagos.
She is a legal practitioner. She believes that all things are possible with God and determination, and her life passion is to be an excellent person in whatever she finds herself doing.
Email : afolasadeojo-Kuteyi@yeswearewinning.com
Facebook: Afolasade Ogunwale
Instagram: @afolasadeogunwale
ADVISORY COUNCIL
Without the time, effort and resources from each of our volunteers who are working hard to make positive changes in the lives of others, we won't be at this phase which we presently are. It's only right you get to know our team in detail.
[sd_staff type="2″ slug="rev-olu-j-omotoso"]
Olusegun John Omotoso is a seasoned teacher, discipler and servant of God.
Mrs. Eniola Eyesan Nee Odusanwo is a seasoned teacher and administrator, born to a seasoned educationist parents. The christian discipline from her parents helped shape her life to become a God-fearing woman even before she accepted Christ as Lord in 1995.
She is a trained teacher and educationist with bias in English Language and Counseling. She holds a Masters degree in counseling,. and has a deep passion for young people (Teens and Youths). Aside working closely with them as a teacher, she has taken up a ministry in her local church to impacts youths with winning attitudes. She is presently a member of an accountability movement group.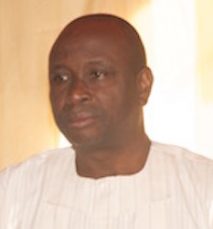 Dr. Samuel Etatuvie, a pharmacist, and administrator is currently the Director General of the Nigerian National Medicine Development Agency, a parastatal of the Federal Ministry of Science And Technology.
An erudite scholar and researcher, he hails from Ugono-Orogun, in Delta State, Nigeria. He is passionate about human capital development, and has been involved in mentoring teenagers and Youth as well as the welfare of the aged for decades.
His work experience spans hospitals, community pharmacy, NGO to mention a few. Dr. Sam is a lover of God and a caring Father.